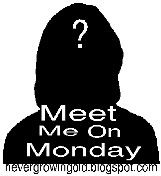 Welcome to the 35th edition of
"Meet Me On Monday!"
Brought to you by Java
Where we all get to know each other a little better by answering these questions:
1. Did you get any Valentine's Gifts?
Yes, my sister sent me a package...my friend Jill gave me a homemade paper heart holder with candy inside...
I have to edit this: In the mail were cards and gifts from two sweet blogging buddies...I love you guys!
2. What is your favorite topping on something toasted?
I can't believe it's not butter spray
3. Do you pick out your outfit the night before?
No, unless I have to get up really early for a trip
4. What food item do you absolutely despise?
There isn't one....unfortunately, I like most every thing. I've never tried raw oysters and don't intend to but I can't say I despise them.
5. Righty or lefty?
Right, although I can do some things with my left hand.
There you have it for this week. If you'd like to join in, hop over to Java's place.
Happy Valentine's Day!