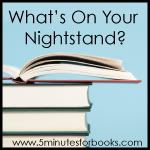 The point of this monthly carnival is to bring booklovers together. It's our hope that you will participate when you can, and also that you will visit around some of the others on the list. Please visit Jennifer at 5 Minutes for Books, who hosts this carnival on the 4th Tuesday of each month.
The Lost Recipe for Happiness was mentioned on someone's website and I read enough about it there to know I would enjoy it.
Twenty years ago, Elena Alvarez, the heroine of this novel, The Lost Recipe for Happiness, was the sole survivor of a car accident that left her badly scarred and haunted by the sister and boyfriend she lost in the crash. Today, she is a chef, trained in Sante Fe and Europe. Julian Liswood, a Hollywood screenwriter, hires her as the executive chef of a new restaurant he is opening in Aspen, Colorado. This is a romance novel with a strong female antagonist. I enjoyed the story line so much but could have done without some of the language used that in my opinion does not enhance a book or a movie.
A couple of weeks ago, I went searching on Amazon for a couple of cheap books that I could read on my kindle. Time travel has always fascinated me for some reason so that was a genre that I looked at. Both Time Patriot and The Postcard were listed under this heading.
In Time Patriot,
Eric "Doc" Gatlin is a man with the heart of a true American patriot. He also has one of the most brilliant minds in the country. Working in Area 51 designing and building aircraft based on technology scavenged from two crashed alien spacecraft was something he enjoyed, as long as he didn't remind himself the things he built might be used to kill people. Everything in his life changed when he discovered a small black box in the circuitry of one of the alien spacecraft. The book puts forth an explanation of the travelers as being from an earth of the future.
The Postcard takes an entirely different turn and really can't be said to be about time travel.
Does love transcend the boundaries of time? If two people are meant to meet, is it reincarnation or destiny that brings them together? Joe never believed in such things, until the postcard came in the mail; a postcard that was 72 years old.
Same Kind of Different as Me is the story of the meeting of a modern day slave and a successful art dealer and the way both their lives are changed because of it. This is not a work of fiction. It tells of two very different men: Denver, the Black man who grew up the child of sharecroppers enslaved to the owner of plantations in the south, becomes homeless on the streets of Texas Towns...Debbie is the wife of Ron Hall, an art dealer, who thinks it is their Christian duty to volunteer at a mission that feeds the homeless. She sees the person inside each of the men and women who come into the mission. She looks at the inside and not the outside just as she believes God intended.
Fireflies in December
Little does anyone realize that simple Christian charity will inflame the bigots and hatemongers in this small Virginia town. Escalating episodes of horrific violence ensue, including sexual attacks directed at 13-year-old Jessilyn Lassiter, the novel's narrator, after her white family takes in her black best friend, Gemma, when she is orphaned by a tragic fire. This book won an award for best first novel in the Christian category.
I mentioned this book, Franklin and Elinor, last month. It is my book club's March selection. My daughter has been reading it, so I only got started on it today. It is a biography and I find this type of book less entertaining. I enjoy reading them but they tend to put me to sleep. I've heard that the book offers fresh insight into the marriage of two of history's important people. Did you know that Franklin Roosevelt served as President for 3 terms?
The following two books are waiting inside my Kindle, sort of like being on my bookshelf.
This book by Francine Rivers I saw on someone's blog this morning and thought it would be something I would like. It is the first in a series.
This book by Fannie Flagg is my book club's May selection. I've never read a book by this author but I enjoyed the movie, Fried Green Tomatoes which was made from one of her books.
I do hope you will visit other participants of this blog hop and hopefully find books that you might like to read
.