Welcome to the 34th edition of
"Meet Me On Monday!"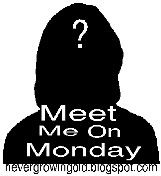 Every Sunday
Never Growing Old
will post five
get to know you
questions that you can copy and paste into your own Monday post and we can all learn a little more about each and every one of us!!
Here are Java's Questions and my Answers:
Questions:
1. Did you watch the Superbowl?
I watched some of it..some of the half time show...none of the commercials...I do know who won....Pro football has never been as interesting to me as college.


2. What is the last book that you read?
The last book I finished was Made in the USA by Billie Letts.....I am reading two more now.


3. What is your favorite kind of cake?
Pound Cake. I favor it over layer cake with icing..it is the only kind I make now and I have recipes for many varieties from apple to coconut to plain...I even have a recipe for a chocolate pound cake or a red velvet one.


4. Do you snore?
Well, I do occasionally but always wake myself up...I call it more of a snuffle, nothing like the noise coming from the other side of the bed.


5. Do you play an instrument?
I'm afraid not...I took enough piano when I was a teen and later when I'd been married for about 20 years, that I could play some southern gospel for my own entertainment but it has been years since I've tried to do even that. Sold my piano in 1993 and used the money for a sewing machine.
I hope you enjoyed my answers to this Monday morning meme. If you're interested in joining or just want to read the answers others give, pay a visit to Java. You'll find the link up above.
*******************************************
I apologize for not visiting more last week....there is just too much going on right now that I can't reveal. I would like to request your prayers for the situation.....my weight loss plan is going well...as of this morning, I've lost 12 pounds in 5 weeks....I am doing the happy dance! I have an address for my son now who has been deployed so I can write to him and send him packages............I hope you had a great weekend...right now, we have no precipitation and I hope it stays that way.......Oh, by the way, the plaque I posted last week on my day book is actually in the children's garden at our Botanical Garden and not on my walk way as some of you thought....there is a little feature there of Goldilocks and the Three Bears....last weekend was the first time I discovered it. Usually, it is just too hot and humid to explore that section outside the Butterfly House.....I couldn't resist taking a photo of 'Mama Bear' which is in front of a drawing on a fence. The drawing has a hole where the face goes as does the ones for the other three characters....so visitors can put their own face there....I'll go back soon and make photos of the rest of the section...my batteries played out at just that moment.
Have a good day, I'll try to stop by for a visit.
Mama Bear
:o)