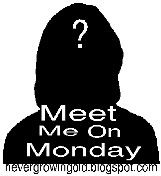 Welcome to the 26th edition of
"Meet Me On Monday!"
Please do stop by Java's place and read her answers.
Visit with others participating in this blog hop if time
permits.
Questions:
1. How do you order your steak?
Medium....And boy does that steak on Java's answers make my mouth water.
2. Are you superstitious about anything?
I don't think so.
3. Who is your best friend (not including your spouse)?
My daughter.
4. When is the last time your wore a dress (for the guys...a suit)?
In October
5. Do you have any trips scheduled?
No, just road trips of about 70 miles during the holidays to visit family.
Its very cold here today, only 23 and tonight the prediction is for teens so I'm happy to stay home...I plan to go out to the mailbox and fill the bird feeders but that is the extension of my outside plans....I hope you're enjoying these days leading up to the Birthday of our Savior...I am loving seeing your decorations and reading about your preparations as well as the events you're attending.