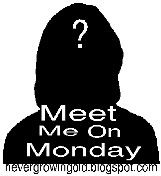 Welcome to the 27th edition of
"Meet Me On Monday!"
Please visit Java at your convenience to check out the answers to other MMOM players.
Questions:
1. What will your Christmas dinner consist of?
Since we'll be eating with extended family and everyone brings food, that is a little hard to say....my usual contribution is chicken/dressing, green beans, ham, cranberry sauce and dessert...Daughter: Fruit Salad, dessert and usually some other side dish.
2. Do you watch commercials or flip through the channels?
When I watch television, I usually pick up my latest book and read during commercials.
3. How long will you leave your Christmas decorations up?
Until the week after New Years
4. What movie makes you cry every time you watch it?
I cry at so many movies but 'Christmas Shoes' comes to mind..I haven't watched it yet this year.
5. Do you have a Facebook?
I'm confused by this question...I do have a Facebook account...I don't actively participate but I go there for new photos of my Texas grandchildren and news about the family.
I am having Open House tomorrow afternoon. If you're in the area drop by between 2-4pm....Over the weekend, the new crown I had put on in November came off so in the middle of my busy schedule, I have to go to the dentist...I'm so not pleased by this.
I hope you have a great Monday.
Mama Bear :0)