My book club met yesterday to choose our reads for the year.....this is always a long meeting as we all have several suggestions and it takes a while to choose just the 11 or 12 books we'll discuss at our meetings....it also gives us a list for our personal reading and enjoyment if we choose to read the other books mentioned. Here are the first 3 we chose:
Amazon.com says:
Kidnapped as a child from Africa, Aminata Diallo is enslaved in South Carolina but escapes during the chaos of the Revolutionary War. In Manhattan she becomes a scribe for the British, recording the names of blacks who have served the King and earned freedom in Nova Scotia. But the hardship and prejudice there prompt her to follow her heart back to Africa, then on to London, where she bears witness to the injustices of slavery and its toll on her life and a whole people. It is a story that no listener, and no reader, will ever forget.
From Amazon:
The circus arrives without warning. No announcements precede it. It is simply there, when yesterday it was not. Within the black-and-white striped canvas tents is an utterly unique experience full of breathtaking amazements. It is called
Le Cirque des Rêves
, and it is only open at night.
But behind the scenes, a fierce competition is underway—a duel between two young magicians, Celia and Marco, who have been trained since childhood expressly for this purpose by their mercurial instructors. Unbeknownst to them, this is a game in which only one can be left standing, and the circus is but the stage for a remarkable battle of imagination and will. Despite themselves, however, Celia and Marco tumble headfirst into love—a deep, magical love that makes the lights flicker and the room grow warm whenever they so much as brush hands.
True love or not, the game must play out, and the fates of everyone involved, from the cast of extraordinary circus per­formers to the patrons, hang in the balance, suspended as precariously as the daring acrobats overhead.
Amazon says:
When they were children, Erica Calcott and her sister, Beth, spent their summer holidays at Storton Manor. Now, following the death of their grandmother, they have returned to the grand, imposing house in Wiltshire, England. Unable to stem the tide of childhood memories that arise as she sorts through her grandmother's belongings, Erica thinks back to the summer her cousin Henry vanished mysteriously from the estate, an event that tore their family to pieces. It is time, she believes, to lay the past to rest, bring her sister some peace, and finally solve the mystery of her cousin's disappearance.
I'm excited by our choices and eager to begin....I'll let you know what I think of these books when I read them........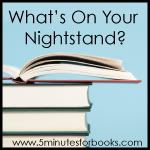 What's on your nightstand?