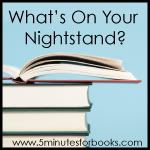 You'll find the linky at 5 Minutes for Books.....Jennifer says:
There are no rules. Just write up a post, link up, and then visit around if you can to see what others are reading. Put the link that goes directly to your post in the linky. If it's your first time, include that in the linky description so we can give you and extra warm welcome.
This was on my nightstand l
ast time and you can read the post
I enjoyed this book...it was interesting to see how the incident on the morning train changed each of the main characters' lives.
Into the Wilderness by Sara Donati is a work of historical fiction set in the year 1792, in upstate New York...Elizabeth's father has brought her and her brother, from England, to his home...He is deeply in debt and hopes to make a good marriage for her which will be advantageous for himself...This is a story of struggle to survive in the untamed colonies as well as a love story....Although the book is 800+ pages, it is an enjoyable read and one which is hard to put down....it is also the first in a 3 volume saga.
Miss Peregrine's School for Peculiar Children by Ransom Riggs is my Book Club's March selection...I was not far into the book before I began to realize it was written for young readers and on investigation, learned that it is for 13-adult. Still, I enjoyed reading it....it reminded me a little of A Wrinkle in Time.
Here is what Amazon has to say:
As our story opens, a horrific family tragedy sets sixteen-year-old Jacob journeying to a remote island off the coast of Wales, where he discovers the crumbling ruins of Miss Peregrine's Home for Peculiar Children. As Jacob explores its abandoned bedrooms and hallways, it becomes clear that the children were more than just peculiar. They may have been dangerous. They may have been quarantined on a deserted island for good reason. And somehow—impossible though it seems—they may still be alive.
Once Upon a Time, There was You
is the story of a divorced couple who are brought
back together when tragedy strikes their only child...
Can they discover what brought them together
This book was on my nightstand last time.
I have read all of Nevada Barr's Anna Pigeon's books
The central character is a gutsy female park ranger
who spends time in most of the nation's parks
where she inevitably becomes involved in a
mystery....As Anna's life progresses from one
novel to the next, I recommend newcomers
to her books begin with the first one....
Here is what Amazon says about The Rope:
In The Rope, the latest in Nevada Barr's bestselling novels featuring Anna Pigeon, Nevada Barr gathers together the many strings of Anna's past and finally reveals the story that her many fans have been long asking for. In 1995 and 35 years old, fresh off the bus from New York City and nursing a broken heart, Anna Pigeon takes a decidedly unglamorous job as a seasonal employee of the Glen Canyon National Recreational Area. On her day off, Anna goes hiking into the park never to return. Her co-workers think she's simply moved on—her cabin is cleaned out and her things gone. But Anna herself wakes up, trapped at the bottom of a dry natural well, naked, without supplies and no clear memory of how she found herself in this situation.
I can't wait to read this one and will most likely start it today.
My 11 year old granddaughter has been asking to read
I've read all three in this series and really enjoyed
them....I would be interested in hearing from other
Mothers and Grandmothers whose children have read this
book and their opinion of the content.