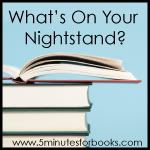 for this monthly blog carnival...
Wednesday Sisters was one of my Book Club's
selections for October. It is the story of
a group of young married women
who meet at a park where they've taken their children. It begins in
the late 60s and follows not only their lives
but the changing times in our nation and women's
struggle to become more than the 'weaker sex'.
I really enjoyed this book. I was a young mother in the late
sixties and could relate to what they were experiencing
in so many ways. It is a story of the special connections
women have with one another and the bonds that
These are the last two books in the Cedar Cove
series...I loved being a part of this town
and following its characters through the
ups and downs of daily life. The only
downside for me is that in each book, the
author has to tell us the entire story of her
characters. For a reader who is reading the
series from the beginning, this is tedious. For someone who
just picked up the current book to read, a little background
might me necessary but could be much more brief.
I saw this book on someone's blog and since it was free
on Kindle, I downloaded it. I pick it up from time to time when I am between reads. The American Woman's Home was
written by the Beecher sisters and became a textbook for
teaching young women how to run a household.
From the cover: The American Woman's Home, originally published in 1869, was one of the late nineteenth century's most important handbooks of domestic advice.
It interests me for its historical content and I find it a
fascinating read.
Ancient Rage was our second book club selection for October
because both of the books are quite thin. I didn't read this
one before our meeting but after the discussion,
decided I wanted to read more.
Elizabeth and her cousin, Mary meet in their
golden years and talk candidly about their
sons, the lives they led, their deaths and
the way they, as Mothers, feel about it
all. It is loaded with scripture reference
and flashbacks which give us a glimpse
of how the incidents in the Bible
might have been experienced by these
Mothers. It is, of course, fiction
and should be read as such.
This is next on my list (our Book Club's November selection)
From Amazon.com.....
—Lisa Genova, author of Still Alice says
"Second Nature is a love story like no other. Sicily Coyne survives an unimaginable tragedy, skillfully imagined by Jacquelyn Mitchard, and must then face seemingly insurmountable obstacles and struggle against impossible odds in her quest to find what we all want—true connection, fulfillment, and lasting love."
* note: I've read this book since I wrote this post. I thoroughly enjoyed it....I was a little disappointed with the ending, however...