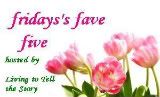 I'm Joining Susanne as we look back over the blessings of this week.
*Cooler weather: After the rain of last week, we had a short span of cooler weather. Honey Bear said it was "Blackberry Winter" which happens around the time the Blackberries bloom. It was nice while it lasted but yesterday we were back to the 80s. Cooler weather means lower utilities.
*Habitat Work Day...I feel blessed that I am still able to do that sort of work which requires squatting, bending, stretching up on my toes and just getting a work out...and not too sore afterward either...I'm thankful for Naproxen, too.
*Daughter's offer was accepted on the house we saw last Saturday...There are a couple of contingencies...we're waiting on other people now.
*Electricity that stays on....we only had a short outage one day this week.
* Menu items that do not have to be cooked in the big oven...the electronics have gone hey wire on my oven since the storm and now is in the locked position so I can't use it. I keep hoping I won't have to call a repair person. Wishful thinking, I'm sure. First, it went into a cleaning cycle all on its on and we had to pull a breaker to get it off...now I can't get the door open....so far I've been able to cook without it using the toaster oven and the microwave..
*A wireless computer mouse....I haven't used a separate mouse since I got my first laptop, but the new computer's mouse buttons are so hard to push that yesterday I bought a new mouse....without the wires I can use it on the arm of my chair.
An added bonus is my new computer is so much faster than the old one.....
We Bears did have the house to ourselves
but it was so chilly inside
even fur couldn't keep us warm
there was a new creature in our
Have a beary good weekend