Welcome to the 37th edition of
"Meet Me On Monday!"
Each week

Java

posts a set of questions to help
us get to know each other better. Visit her
to play along or to check out the links
to other players.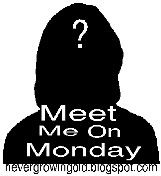 1. What is your favorite way to eat potatoes?
I like potatoes prepared so many ways but I think baked is my favorite, loaded is good but I especially want sour cream, butter and cheese.
2. What was the last package that was delivered to your house?
A book...I think it was the one by Fannie Flagg for book club in May.
3. What is your favorite scent that you love to smell?
I've had no sense of smell for about 20 years now....however I always loved the way gardenias smelled and I liked vanilla....Years ago I wore Heaven Scent and then when I was older I liked Evening Musk....now I'd be happy just to smell again.
4. Do you smoke?
No
5. Are your parents married or divorced?
My parents are both in Heaven....Mother went home first in July 2005...they would have been married 60 years in September of 2005...Daddy went home November 2006.