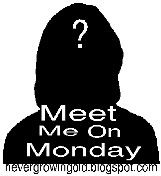 Welcome to the 32nd edition of
"Meet Me On Monday!"
Blogging is a funny thing...we tell our most intimate thoughts for all to read and yet most of the time I find myself sitting and wondering, "who is this person!?" I know them...but yet I don't know them! I want to know who the person is behind all those words so I thought of a great way for all of us to "meet" each other!

Every Sunday Never Growing Old will post five get to know you questions that you can copy and paste into your own Monday post and we can all learn a little more about each and every one of us!!
Visit Java, her answers always include pictures.
Questions:
1. What is your favorite kind of fudge?
Chocolate with nuts
2. Is there snow outside your window?
No, it is actually 48 degrees here today but supposed to get colder this afternoon and tonight...snow in the forecast for tomorrow.
3. What is your favorite meal of the day?
Usually, its dinner, however since I am dieting all meals are favorites...I'm always hungry.
4. Do you text on your cell phone?
Back in the Fall, I got an iPhone and I do text now..mostly to my daughter, we can text during the day while she is at school when we can't chat online or talk on the phone...If I need to get in touch with her, I text her and vice versa...I'm hoping I will be able to do the same with my son soon...He has an iPhone too and I'm hoping I'll be able to see him in real face time..... I don't, however, use all the abbreviations for words that some do.
5. Waffles or pancakes?I'm not sure I favor one over the other. I eat pancakes more often though...this reminds me to get my waffle iron out and use it.
Thanks for stopping by.