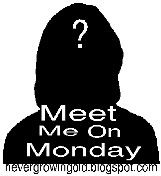 Welcome to the 24th edition of
"Meet Me On Monday!"
Brought to you by "Java" at Never Growing Old
Blogging is a funny thing...we tell our most intimate thoughts for all to read and yet most of the time I find myself sitting and wondering, "who is this person!?" I know them...but yet I
don't
know them! I want to know who the person is behind all those words so I thought of a great way for all of us to "meet" each other!
Questions:
1. What is your favorite way to eat chicken?
strips, tenders, fingers, whatever they're called, you get the idea
2. Have you decorated for Christmas yet?
No, give me a break, I just got back from the mountains yesterday and it isn't even the first day of December....I'll probably begin to do a little this week, although it is a busy week for me.
3. What is your favorite article of clothing?
pajamas.....followed by warm up suits....and then jeans
4. Do you pay your bills online or write checks the old way?
Pay online or by draft
5. Do you make Christmas cookies?
Yes, although not always the cut out sugar cookie kind...usually I make fruitcake cookies or something like that...last year I made about 4 different kinds of cookies to give as gifts.
I know that I've missed a few days posting but I was still thankful in my heart.
Day 24 I was thankful for a safe trip to the mountains
Day 25 I was thankful not to have the traditional meal so I didn't have to spend the day cooking
Day 26 WAR EAGLE....I was thankful my team won the Iron Bowl
Day 27 I was thankful that the cabin had a fireplace and Honey Bear could build a fire...It was 25 degrees
Day 28 I was thankful to be home in my quiet and peaceful house
Day 29 I'm thankful that I have a meeting this morning or else I would probably still be in bed.
Instead, I am sitting here with Smokey who is partially in my lap while I type.
Mary at Mary's Writing Nook is having a Christmas Book Swap...I've participated in this for the past two years...If you're interested, go by and join because it closes TODAY.
Thanks for stopping by for a visit!